Can't get to Spain for hot chocolate and churros? Now you don't have to.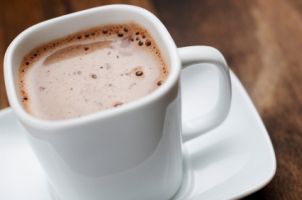 Spanish Hot Chocolate
From About.com: Spanish Food

Sweet Chocolate Version:
2 cups whole milk
4 ounces milk chocolate
1/2 tsp. cornstarch

Baking Chocolate Version:
2 cups whole milk
3 ounces (3 squares) baking chocolate
1/3-1/2 cup sugar
1/2 tsp. cornstarch

The process is almost the same, no matter which chocolate you use.

Pour the milk into a medium saucepan, add the cornstarch and whisk to dissolve. Heat the milk on medium just until it boils. Remove from heat and add the chocolate, stirring until the chocolate is melted. If the milk cools off too fast, place the pan back on the stove on low heat to melt the chocolate.

If you are using baking chocolate, which is unsweetened, add the sugar to the chocolate milk mixture and stir until completely dissolved.

Place the pan back on the stove over medium low heat, stirring slowly, but constantly. (Do not cook the mixture over high heat because it may cause lumping.) Taste the chocolate for sweetness and add more sugar if necessary. The mixture should thicken quickly. As soon as you see it thicken, remove the pan from the heat so the cornstarch will not thin. Ladle immediately into cups and serve hot.

Note: Be sure to use a clean spoon every time you taste the chocolate. Enzymes from your mouth can cause a thickened cornstarch mixture to thin.


---
If you like a little heat in your hot chocolate, try this one from Chocolate Covered Friendship by Bethany Thouin and Angela Fox (Thomas Nelson, 2008)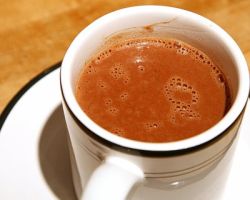 Mayan Hot Chocolate

4 ounces dark chocolate, chopped
1 whole, dried chili pepper
2 cups whole milk
1 cinnamon stick

Cut chili open lengthwise. Combine milk, chili and cinnamon stick in saucepan. Bring just to a boil.

Set chopped chocolate in a bowl big enough to hold milk. Using a strainer, pour milk over chopped chocolate. Whisk vigourously until chocolate is melted and milk frothy. Pour into preheated mugs.


---
And for those of you who prefer a cool little kick, here's one from Tabasco chef Jason Gronlund, which came from Saveur.com.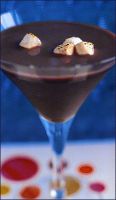 Hot Chocolate Martini

1/2 ounce chocolate syrup
1 ounce crème de cocoa
2 ounces Baileys Irish Cream
1 ounce vanilla-flavored vodka
A dash of habanero tobasco sauce
1 teaspoon whipped cream
Cocoa powder for garnish

Pour the liquid ingredients into a cocktail shaker filled with ice. Shake well. Strain into a martini glass.

Float a spoonful of whipped cream on top of the drink and dust with cocoa powder before serving.